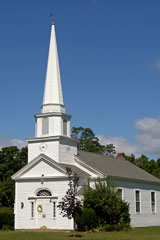 A pristine white church is set in front of an azure blue sky. The church's architecture, with its wooden steeple and clapboard siding, is reminiscent of structures in New England. Experience the four seasons of New England — summer, fall, winter, and spring. Explore the stunning Rhode Island coastline, eat lobster in Maine, ski down the mountains in Vermont, enjoy the woods and wilderness in New Hampshire, take in the lush scenery of Connecticut, and enjoy the urban culture that Boston, Massachusetts has to offer. Fly into one of New England's major airports, and explore this diverse region by car or by boat!
---
These search results emphasize American manufacturers, service providers, and information resources.
Copyright © New-England-Map.com. All rights reserved.

New England Map - Custom Search Results