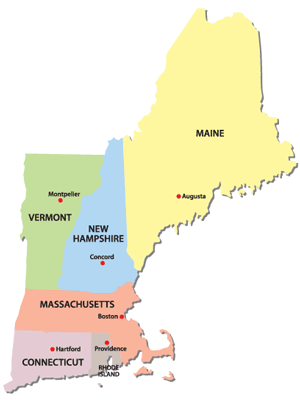 New England spans a total of 66,608 square miles, and occupies a fairly small part of the USA. However, despite its small geographical size, New England has always had a large impact on America. New England is located on the East Coast of the United States; it comprises the states of Connecticut, Massachusetts, Maine, New Hampshire, Rhode Island, and Vermont. New England is made up of varied, rugged, and beautiful terrain, from the Atlantic Ocean that forms the coasts of Maine, New Hampshire, Massachusetts, Rhode Island, and Connecticut, to the mountainous regions that make up Vermont and New Hampshire. New England is culturally diverse as well; within the span of several hours, one can travel from the sleek, urban city of Boston, Massachusetts, to the quaint and remote islands of Martha's Vineyard and Nantucket, from the bucolic, peaceful landscapes of Connecticut to the rural backwoods of Maine. Indeed, whether your interests lie in sailing or antiquing, visiting art museums and restaurants or enjoying mountain sports, New England truly has something for everyone.
New England Road Map
The center of New England is located at 44.0 degrees North (latitude) and 70.8 degrees East (longitude).
New England States
Connecticut is New England's most southernmost state and, comprising 5,544 square miles, is also its second smallest. The landscape is made up of coastal plains, hills, and forests. Connecticut's Long Island Sound, which is 250 miles long, is a popular tourist destination. The state's close proximity to New York City makes it a desirable place to live for those who work there, and many communities are easily connected to New York City via railway.

Maine's nickname, "Vacationland," is well deserved because of its quaint seacoast villages, rocky beaches, and mountains that attract skiers, snowboarders, hikers, and mountain bikers. Indeed, Maine is an active person's paradise. The majority of Maine — about 89 percent — is covered in forest, and Maine is also home to many lakes and rivers. About 1.2 million people currently call Maine home.

Massachusetts comprises 9,241 square miles and is home to 6.3 million residents. The sixth of the original 13 states, Massachusetts has a landscape made up of coastline and beaches, forests and woods, farmlands, rivers and lakes, and mountainous regions. Massachusetts is known for being a hub of education, and has more than 150 colleges and universities in the city of Boston alone.

New Hampshire is made up of 9,283 square miles that approximately 1.2 million people call home, making it one of the least densely populated states in the country. New Hampshire boasts the highest mountains in the Northeast, and is also home to lakes, farmlands, and forests. New Hampshire is bordered by Quebec, Canada, to the north, Maine and the Atlantic Ocean to the east, Massachusetts to the south, and the Connecticut River, which separates it from Vermont, to the west. Its major port in Portsmouth had made New Hampshire a significant player in trade and shipbuilding.

Rhode Island, the smallest state in the USA, is only 48 miles long and 42 miles wide. Despite its small size, its population of just over a million makes it the second most densely populated state. As its name implies Rhode Island includes many islands, but most of the state is located on the mainland. The expansive coast and temperate summers have made it a tourist destination for those who love the beach and ocean sports such as sailing, boating, and surfing.

Vermont, which spans 9,249 square miles and is home to a little more than 600,000 people, is one of the most rural states in the United States. It is bordered by Canada to the north, New Hampshire to the east, Massachusetts to the south, and New York to the west. The Green Mountains, which are located vertically through the center of the state, make up much of Vermont's landscape and provide recreational opportunities for skiers, snowboarders, mountain bikers, hikers, and rock climbers. The state is also known for its rivers, lakes, and farmland.
New England Political Map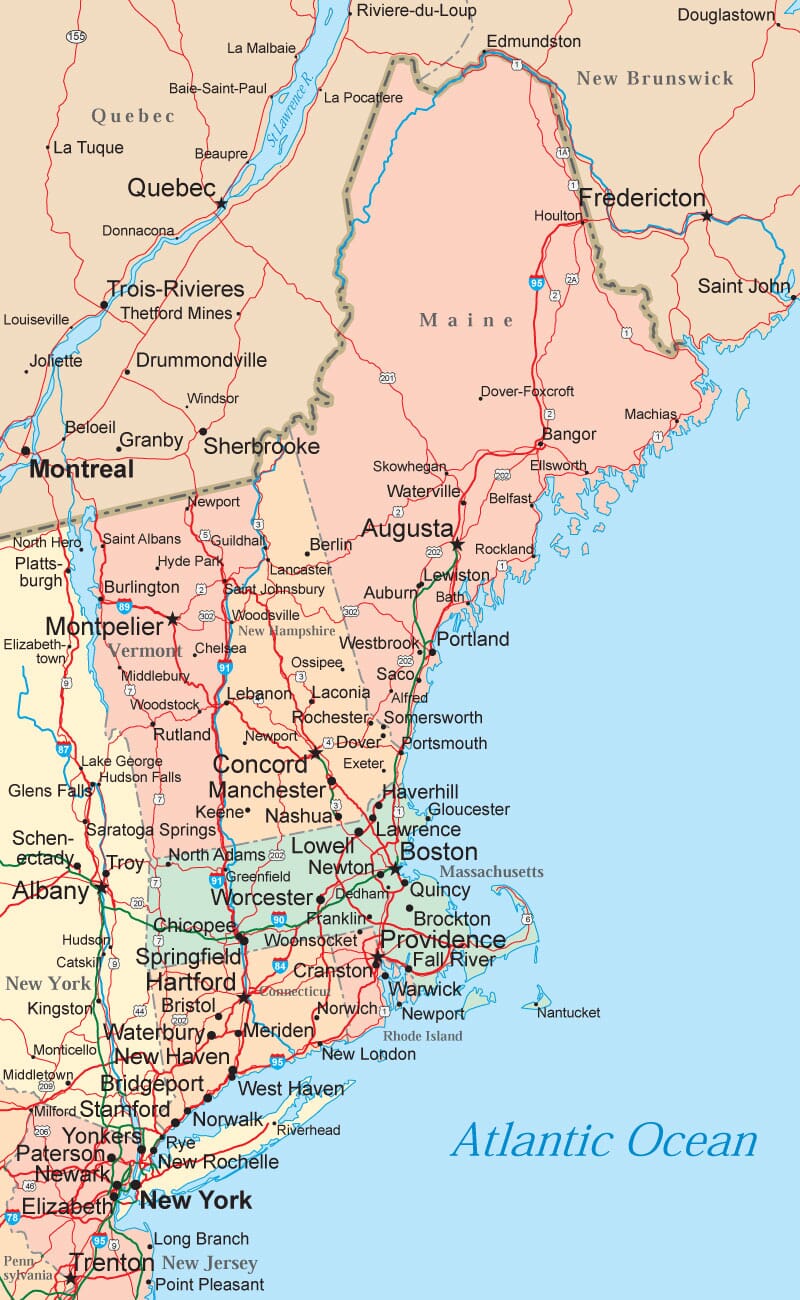 Political Map of New England
---
Copyright © New-England-Map.com.
All rights reserved.
About Us
.
For your convenience, certain links will open in new windows.
New England political map © Map Resources.
New England Map